TRANSCRIPT FACTS YOU SHOULD KNOW
from 1973 to the birth of the world wide web (www) in 1992 to the present 2017. THE PROBLEM. DEMOCRACY LOSING SUPPORT GLOBALLY, ESPECIALLY AMONG YOUNG (ABC Bruce Hill Pacific Beat updated December 2, 2016 ;
THE SOLUTION. Brief scroll through history is on this web page. A more detailed scroll through HISTORY IS AVAILABLE ON PDF
1973 till today 2015 my experience. The whole criminal and civil transcript work flow is too convoluted and complex. University of Victoria HUMANITY STUDIES, I wrote about my court reporter and Hansard experience.
1970s till today, Canada's Court Services managers deliberatly commit Anti Trust violations, forcing private court reporters to compete with government civil servants (on salary and on contract) running private practice out of public office. Court Services sells for profit criminal and civil court transcript is the reason Legal Costs soar. No one can afford court transcript anymore!
Canada's Chief Justice also talks about the problems of court services (pdf download) -- 2012 FEBRUARY 29TH ACCESS TO JUSTICE IS A BASIC RIGHT
1979-1985 WHAT ARE WE DOING USING A HAMMER (?) IN A SITUATION WHERE A SCREW DRIVER IS THE BEST APPROACH
1972 - 2015 My job, my Mdme Court Reporter oath, obligates me to speak out frankly to my clients, judges and litigants. It's a matter of Professional Ehics (University of Victoria Philosophy Course).
1979 This court reporter could not help but think WHAT ARE WE DOING USING A HAMMER IN A SITUATION WHERE A SCREW DRIVER IS THE BEST APPROACH! for court and civil transcript delivery.
My job is to advise clients, judges and litigants, on transcript work flow. It's a matter of Professional Ethics (University of Victoria Philosophy Course). My oath obligates me to speak frankly to my Chiefs when I see a problem, and let them know there is a better way of delivering The Record -- the verbatim transcript.
1982 BC Chief Justice Allan McEachern invited into his Chambers the board members of BCSRA-BC Shorthand Reporters' Association. I was the first private court reporter to hold a board member position on BCSRA. I let my Chief know my court reporter oath obligates me to speak frankly to my Chief before he releases his Practice Direction.
1984-85 Privatization
1986-87 The SOLUTION. A BETTER WAY TO DELIVER THE RECORD, the VERBATIM TRANSCRIPT
1986 I was the first court reporter in Canada to provide a soft-copy transcript -- to then client 1986 World Exposition in Vancouver, BC Canada. The world wide web (www) soon followed, came out in 1992 (referred to in timeline below on this web-page).
1987 BC's JRC-Justice Reform Committee Chairman Glen Parrett sent written invitiation to me personally to appear before JRC to speak frankly. I was past-president of BCSRA-BC Shorthand Reporters' Association in 1987. JRC-Chairman, Counsel Glen Parrett as he then was, was a personal client of my private court reporting practice. Today Mr. Justice W. Glen Parrett Appointed to Supreme Court February 16, 1990 can be reached at Prince George Court Registry, BC Canada 250.614.2700.
Privatization the idea was right, the application botched!
THE SOLUTION is you do NOT need to pay for further transcript (expedite or daily copy).
You do NOT wait for transcripts. The LIVE transcript at the end of the session is yours to take at no extra cost.
Realtime (RT) transcript lets you watch the court session words scroll by i.e. RT notes immediately translate into English and you can view the RT transcript on a screen. RT Transcript is available at the end of the court session at no cost.
A STEP UP is Computer Integrated Court (CIC). CIC transcripts allows litigants to search&find content in the "live" session's transcript.
CIC is free "light" (digital) copy-transcript available at the end of the session for you to take at no extra cost, is included in the costs of court reporter attendance and is free for parties in the same action to duplicate and distribute. You can request a printed copy. You do NOT need to pay for further transcripts expedite and/or daily copy. You do NOT need to wait for transcript. The transcript is yours at the end of the session.
1986-87 Image below created by me 1986 (notice the vintage computer screens in 1986). The more time goes by the SMALLER OUR SCREENS BECOME the stronger/BIGGER my message becomes! The one man who has never lost faith in my message is retired systems and software engineer Mervyn Hearst helped me in those early years prepare CIC presentation. My presentation is available to you on request.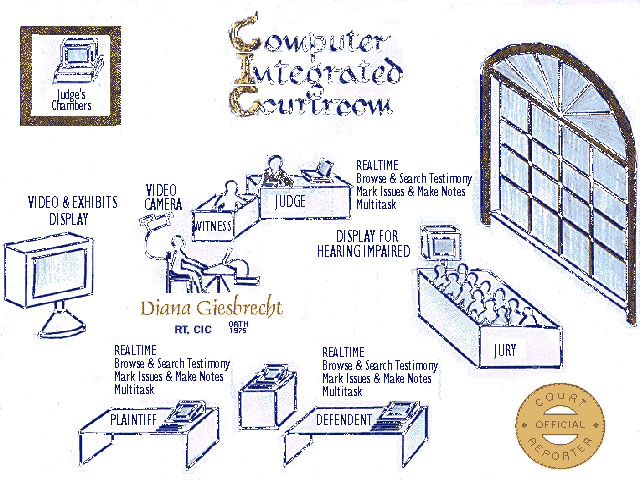 1992 BC OMBUDSMAN REPORT | BIRTH OF THE WWW-WORLD WIDE WEB | 2001-15 THE CHIEF JUSTICE OF CANADA
1992 Download PDF BC's OMBUDSMAN REPORT in black font is below Diana's Comment (in arial-color-font) tells us Canada's criminal and civil justice system fails to provide access to justice, fails to provide our basic transcript rights.
1992 University of Victoria, this HUMANTIES student begged my way into an all men-UVic-instructor-only workshop on GOPHER PROTOCOL. The instructor asked the Gopher-workshop participants -- all maile UVic-instructors and this one femail Humanities student -- the instructor asked: Do you want to learn about "this here new protocol world wide web or do you want status quo, focus on Gopher protocol?"
This my FIRST HEARING WHAT IS THE WWW-WORLD WIDE WEB?! My court-reporter ears stood on end! My court reporter and Hansard reporter past and present experience prepared me for just this MOMENT.
I persuaded all the men to let our Gopher-instructor talk on this here new protocol world wide web (www). And the rest is history!
There is a better way to deliver The Record -- the Verbatim Transcript
2001 Canada's Chief Justice The Right Honourable Beverly McLachlin acknowledged in 2001 "this new view of the judge involves changes on every front ... Changes in the process through which the duties are discharged: the administration of justice. ... court management has become a hot topic." (http://www.scc-csc.gc.ca/court-cour/ju/spe-dis/bm01-05-05-eng.asp -- HYPERLINK NO LONGER AVAILABLE MAY 2015
2010 May 4th Download PDF article TWO MYTHS HINDER THE GLOBAL FIGHT AGAINST CORRUPTION
2010 September 30th Download PDF article A PERFECT LEGAL STORM: "Many Canadian men and women find themselves unable, mainly for financial reasons, to access the Canadian justice system. Some of them decide to become their own lawyer.
2011 February 25th Kamloops .. OTHERS SIMPLY GIVE UP | download PDF.
2012 February 29th Download PDF ACCESS TO JUSTICE IS A BASIC RIGHT : "quoting Canada's Chief Justice The Right Honourable Berverley McLachlin tells us: Canada's justice system has "failed our middle class." Comments included at the end of the Chief's article a reflection of my court reporter experience with Canada's court registry(s) Managers and their court clerks are running private practice out of government offices. The Rub is civil Servant transcript producers compete with private court reporters selling transcript. Canada's Government Services does Not practice Professional Ethics (UVic philosophy course). Instead Canada forces private transcript producers to compete with Court Registry civil-servant transcript producers -- is ANTI-TRUST VIOLATION. Canada court registry pays for all the overhead of their civil-servant transcript producers. ANTITRUST violations by Canada Court Services is the reason for soaring legal costs. Canadains cannot afford (!) to go to court to access their basic rights to Justice.
2015 Till today I never lose hope Canada's Chief Justice will ORDER her judges to strenghthen judicial independence -- Practice Professional Ethics (UVic philosophy course) in and outside her courtrooms. SAY NO to Court Registry services running private practice out of goverhment office forcing Private Court Reporters to compete with Public Servant -- Court Reporters who are saleried government servants or court reporters who hold Contracts with provincial and federal Government.
Only Chief Judges can Order their judges to practice Professional Ethics (UVic philosophy course) inside democracy courts and boardrooms. THE SOLUTION is Judges Order criminal and civil transcript production by "light" (digital) LIVE-transcript production
CASE MAPS
You have heard of road maps. You have heard of Site Maps. Now you will hear what is a Case Map.
Case Maps alongside transcripts help keep legal costs down in criminal and civil proceedings.
A plethora of court transcripts, expert reports and reviews fill large binders.
Case Maps interact with litigants to turn those "heavy" (print) documents into "light" (digital) files.
One document contains simple searchable "live" links for easy access.
You OPEN , VIEW, and PRINT Options for SIMPLE EASY (!) access to your own evidence and transcripts
DESCENDANT OF A VC-VICTORIAN CROSS
My father a wwii Canadian veteran, Commando Trained (hand-to-hand combat) Dispatch Rider rode Harley Davidsons in wwii delivering The Message. DAD TELLS ME HE WAS "ALWAYS ON A MESSAGE."
Dad's older brother Uncle Renald wwii Air Force pilot declared missing in action after wwii was declared over. I AM A DESCENDANT OF A VICTORIA CROSS (VC), the highest military decoration awarded for valour "in the face of the enemy."
I come by my court-reporter role honestly, "always On a Message" delivering The Record.
The Message is: We've won the war! My family paid the ultimate price for your freedom! My father's older brother Uncle Renald sacrificed his life for you to ACCESS Justice, your Basic Rights!
NOW YOU HAVE KNOWLEDGE, NOW YOU HAVE CHOICE
Your ACCESS to Justice is through your Basic Rights -- through "light" (digital) LIVE transcripts RT-Realtime and CIC-Court Integrated Conference transcript!
The war is over! We won!
Say NO to soaring legal costs. Transcripts are a basic right! There is NO cost for transcript at the end of legal sessions.
CONTACT THE WRITER for support -- a full description of transcript costs to keep your legal costs down